Biography
Tony Moore, an English-American sculptor and painter, is represented in international museum collections including the Guggenheim Museum, Brooklyn Museum and Greenville Museum, US, and the Yorkshire Museum and Derby Museum, UK.  He received a MFA in Sculpture from Yale University, an Art Teaching Certificate from Cardiff University and BFA from Cardiff College of Art.  He is the recipient of prestigious awards, including a Louis Comfort Tiffany Award, CAPS Grant and Sally and Milton Avery Fellowship. In 1998, after 25 years of residing and maintaining a studio in New York City, Moore relocated his home and studio to the scenic Hudson Valley near Cold Spring, Putnam County, NY (50 miles north of NYC) where on a mountain top property he built a spacious studio, gallery and Japanese style Anagama-Noborigama wood-fire kiln.  His unique ceramic sculptures are fired in the kiln four times a year in weeklong communal events. "Tony Moore has passionately explored the profound mysteries and paradoxes of human experience, as both a painter and sculptor, for almost 40 years.  From the beginning he was motivated by the awareness that we are simultaneously transcendent beings in human form and human beings who are informed by the non-physical dimension.  This seeming duality has been the subject of human expression throughout the millennia.  As part of this continuum, Moore has evolved creatively, producing ever more balanced and powerful objects expressing the interplay of these two coexistent realms.  Within different modalities of material and form, he continues to pursue this fundamental interrelationship with increasing purpose." "Moore's works are fired for one week in his double chambered, hybrid, Anagama-Noborigama (Japanese style) wood-fire kiln, which allows for the maximum flexibility in firing temperatures and optimizes both controlled and accidental impact from ash and other by-products of the kiln. This artist's work is at once heroic and confrontational, elegantly and delicately detailed, minimalist and substantial.  It does not so much present a world view, as expose the need for all people to take note of the paradoxes of mind and body, individual and social group, conventional reality and spiritual possibility.  Drawing on spiritual tradition, the idea of "radical acceptance", the courage to be with things exactly as they are, is the essential wisdom."
Vivian Goldstein, excerpt from "Paradox in Form", Ceramic Review, UK and "Tony Moore Sculpture: The Embodiment of Spirit in Form", New Ceramics/Neue Keramik, Germany.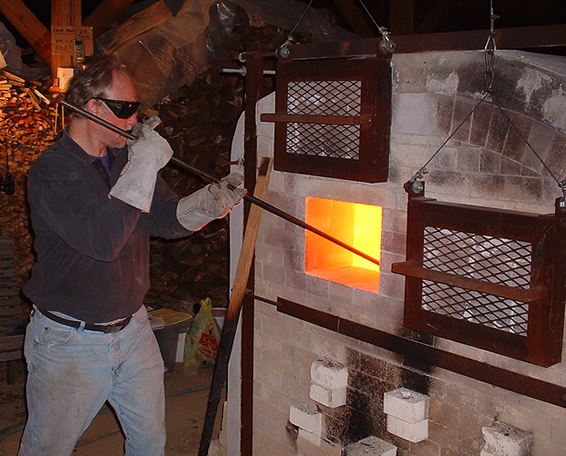 "Lyricist in a time of war, Moore offers both the loveliest of studies in quiet clay and something like the portrait of blind militarism.  Moore is able, both as a witness to war and as a poet who cares for small but telling things. The poet looks at how fire moves across clay surfaces and deposits marks, how the impress of a leaf before the firing leaves behind a fossil-like, detailed image, how a strangely eloquent Sign of the Cross can emerge from a complex technical sequence of superposed tiles, clay slip, and the heat of an extended, six-day kiln firing. The multi-part work called "Meditation" reflects the interests of a poet and an inquirer into the meeting place of technique and image-making.  But all of that is transformed into a new experience by Moore's medium, the wood-fired kiln. In "Meditation" one comes upon Moore's lyricism, free of our conflicted times and exercising itself in the realm he knows to be his home ground: clay and the wood-fired kiln."
Roger Lipsey, excerpt from "Tony Moore: Lyricist in a Time of War", Van Brunt Gallery exhibition brochure and Ceramics Monthly.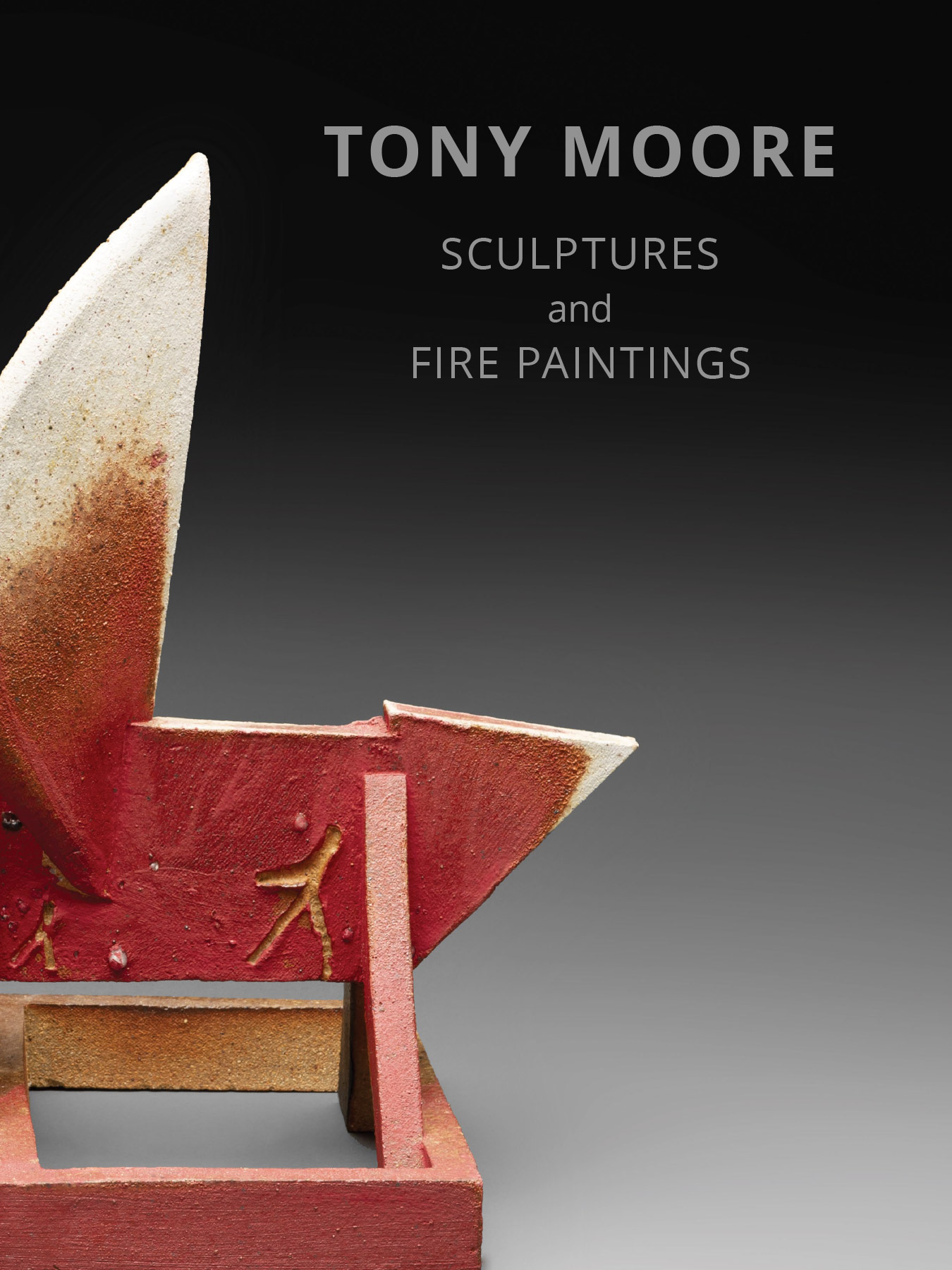 View Tony Moore: Eternal Becoming – Catalog 2023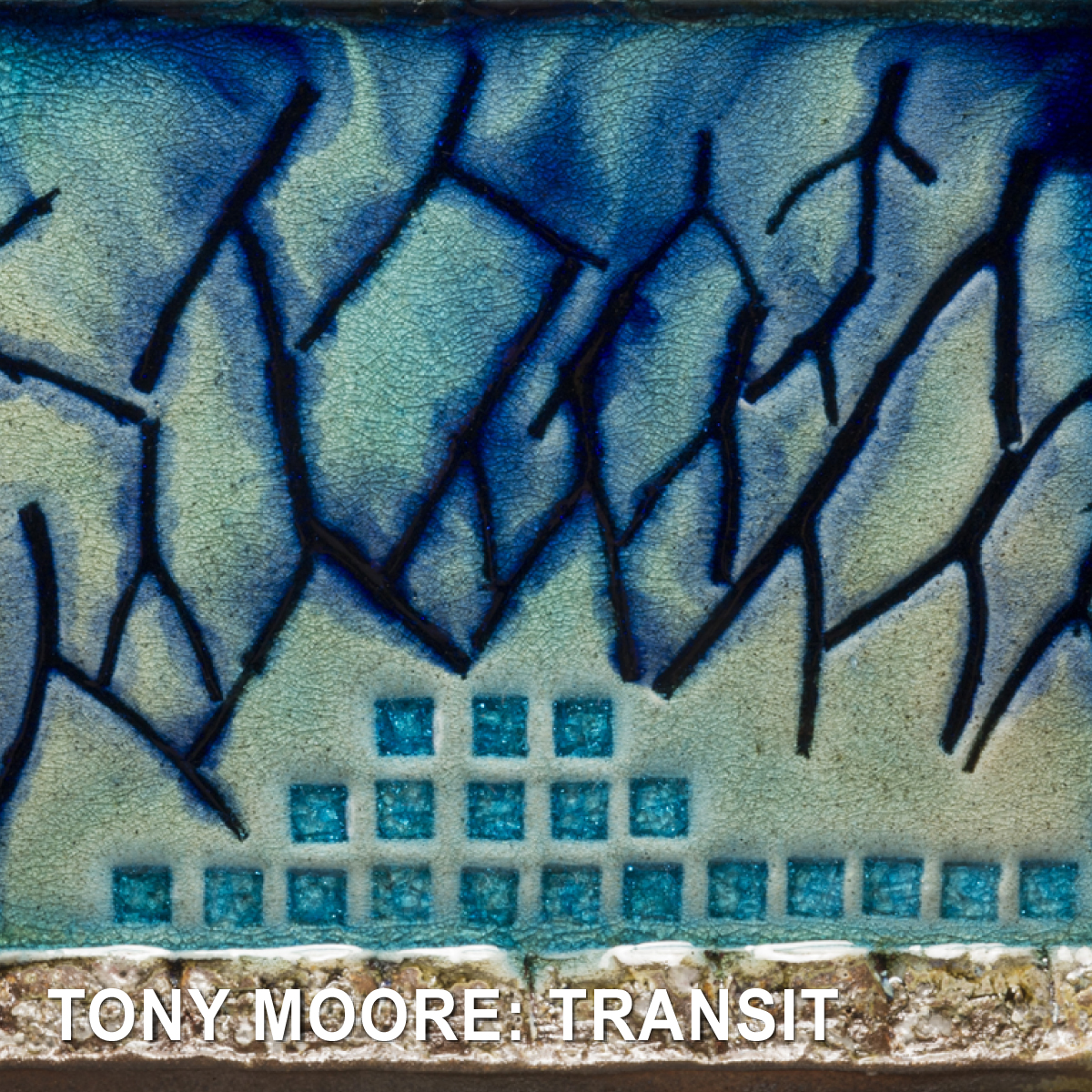 View Tony Moore: Transit. Sculpture & Fire Painting – Catalog 2019
View Tony Moore: Sculpture – Catalog 2017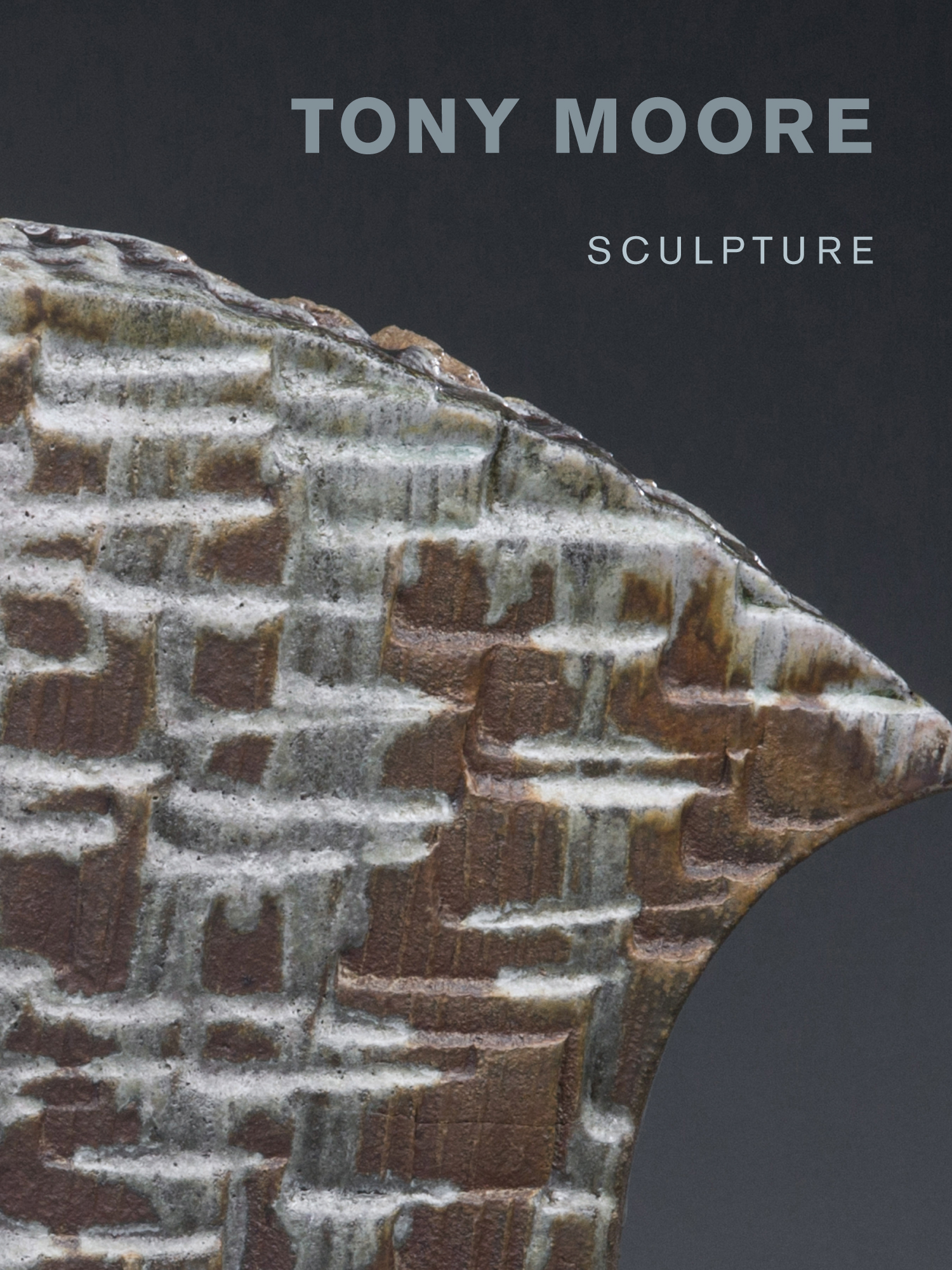 View Tony Moore: Sculpture – Catalog 2016